In Sacramento, the search has begun for a 22-month old baby who's been missing for 11 months.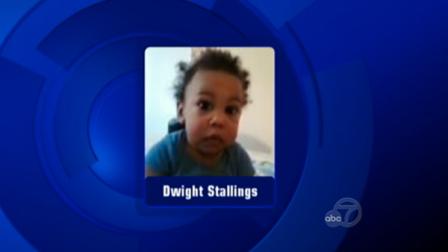 Dwight Stallings hasn't been seen since last April. Family
members began asking about him after his mother, 35-year old Tanisha
Edwards, was arrested on a probation violation a few days ago.
Officials from Child Protective Services say they tried to make several
welfare checks on Edwards and her son before last April but were unable
to find them.
Edwards is being held without bail because of the severity of the case.
http://abclocal.go.com/kgo/story?section=news/state&id=8594783

TomTerrific0420

Supreme Commander of the Universe With Cape AND Tights AND Fancy Headgear





Job/hobbies

: Searching for Truth and Justice



Law enforcement authorities are worried that a baby boy last
seen 11 months ago may be dead, and they say Sacramento County Child
Protective Services failed for all that time to alert them the boy was
missing.
"We can't ignore the possibility that the baby is no
longer alive," said Sacramento sheriff's spokesman Deputy Jason Ramos.
"The disconcerting thing is that no family members or friends of (the
mother) can say they've seen the baby since April 2011."
Dwight Stallings would be 22 months old today.
His mother, Tanisha Edwards, was arrested last week by Elk Grove
police on suspicion of violating probation and being under the influence
of a narcotic. She was also arrested on a warrant sought by Sacramento
County Social Services against a parent or guardian who fails to appear
for a hearing.
Edwards is being held at the Sacramento County Main Jail without bail.
Her
son was nowhere to be found, and the mother was unable to provide
investigators with an explanation for his disappearance, Ramos said.
Edwards
is a drug user with a transient lifestyle and may have given her child
to someone who is raising him under a different name, Ramos said.
Sheriff's
deputies accompanied a CPS caseworker on four different occasions over
six days in April 2011, when the caseworker could not locate either
Edwards or the boy, the sheriff's spokesman said. In August, deputies
once again went with a caseworker who was unable to find the mother and
child.
Friends and family questioned after Edwards' arrest said they hadn't seen Dwight Stallings since last April.
Ramos
said CPS may have been investigating Edwards for neglect or abuse but
until last week did not file a missing persons report, which would have
prompted the Sheriff's Department to began an investigation.
"It
does sound like an inordinate amount of time without taking it to the
next level (by filing) a missing persons report with us," he said.
CPS
spokeswoman Laura McCasland said privacy rules prohibited her from
discussing the case or even saying if Edwards or her son was involved
with the agency.
"Everybody is very concerned about this child," she said but declined to discuss the case further.
She
said that generally in such situations, caseworkers will look in many
places for missing children, including at home and at preschool or day
care. They will also check with other social services agencies and law
enforcement to see if they've had contacts with parents, she said.
Ultimately
a warrant will be issued for the parent's arrest, which brings the case
to the attention of law enforcement, she said.
Ed Howard, a
senior counsel with the Children's Advocacy Institute in San Diego,
called it unusual and disturbing that CPS "would simply drop the ball by
not telling the Sheriff's Department or anybody they can't find the
baby or the baby's mom."
"That's unbelievably troubling but
consistent with what we hear about Sacramento County CPS," he said,
"that they seem unable or unwilling to get their act together keeping
track of abused or neglected kids."
The Sheriff's Department is
working with Elk Grove police to find Dwight Stallings. Anyone with
information should call sheriff's investigators at (916) 874-5115.
http://www.sacbee.com/2012/03/27/v-print/4368708/missing-baby-feared-dead-sacramento.html

TomTerrific0420

Supreme Commander of the Universe With Cape AND Tights AND Fancy Headgear





Job/hobbies

: Searching for Truth and Justice



The Sacramento County Sheriff's Department has released details of comments the mother of
missing baby Dwight Stallings
made to investigators about her child's whereabouts, in hopes that it will help them locate him.
Baby Dwight's disappearance grabbed headlines earlier this week after
Elk Grove police arrested his mother, Tanisha Edwards, at a home in Elk
Grove. Investigators with the sheriff's department say Edwards told
them conflicting stories about the child, who would be 22 months old
today, and other family members reported they last saw him in April
2011.
Edwards at various times said Dwight was "taken by unknown males
dressed in black" and "died due to an illness at an unknown hospital,"
according to a sheriff's department press release.
The mother also said her son was with relatives or a group of black Muslim women, sheriff's deputies said.
Sheriff's spokesperson Deputy Jason Ramos said in an email to media
that the purpose of releasing the stories was "twofold: 1) To advise you
of just what some of the conflicting accounts by Edwards has been, and
2) To IMPLORE the public to contact us with any knowledge about this
baby's whereabouts. Although it is possible that Edwards has
successfully kept this baby hidden from law enforcement authorities,
surely she has NOT kept Baby Dwight hidden from the entire community."
Investigators have said it's possible the boy is now deceased or living under another name.
Anyone who may have spotted Dwight Stallings recently can call the sheriff's department at 916-874-5115.
http://elkgrove.patch.com/articles/missing-baby-s-mom-black-muslim-women-took-my-child

TomTerrific0420

Supreme Commander of the Universe With Cape AND Tights AND Fancy Headgear





Job/hobbies

: Searching for Truth and Justice



Sacramento homicide detectives to lead missing Baby Dwight case
Published: Saturday, Mar. 31, 2012 - 12:00 am
Homicide detectives have taken over the lead role in the investigation of missing 22-month-old Dwight Stallings.
However, Sacramento County sheriff's officials stressed that giving homicide
detectives command of the search for the youngster does not mean that it
is a death investigation. "Due to the unusual circumstances
present in this case, the decision was made that homicide detectives
would be better equipped to handle the investigation from this point
forward," said a Sheriff's Department news release. Detectives scheduled a meeting in the south area with volunteers,
who will help distribute and post fliers with Dwight's picture and
information about the case. Detectives have obtained a previously
unreleased photo of the child. It was provided to media outlets Friday
in the hope that somebody will recognize the boy and provide information
on his whereabouts. Authorities say the child has not been seen
by family members since April 2011, and his mother, Tanisha Edwards, 35,
has been unable or unwilling to reveal what happened to him. Edwards'
arrest last week in Elk Grove came after Sacramento County Child
Protective Services spent months looking for the mother and child,
seeking help at times from
law enforcement
in the "Baby Dwight" case
.
http://www.sacbee.com/2012/03/31/4380403/homicide-detectives-to-lead-missing.html

kiwimom

Supreme Commander of the Universe With Cape AND Tights AND Fancy Headgear






Dwight Stallings case: Another baby erased?
Posted on April 2, 2012 by Valhall
Dwight Stallings apparently went missing a year ago. Just last week he was finally reported missing.
A year. I'm not even sure what to say. Needless to say at this point homicide detectives have taken over the case since in the past week they haven't been able to find anyone that can state Dwight was seen alive past last April. That's when his egg-donor got evicted from her apartment. Over the course of the next few months (July and August of 2011) the cops would end up working calls that involved Tanisha Edwards, the egg-donor. She never was reported to have a baby with her during those calls.
Meanwhile, grandma didn't see her grandchild for a year. Apparently neither did Child Protective Services. Neither grandma or CPS let law enforcement know for a year that there was a supposed to be a baby out there somewhere but they couldn't verify it still was out there….somewhere. Hence the reason Dwight Stallings has most likely been dead for a year and the cops are trying to make up ground for 12 months in an investigation of what is most likely a homicide – near impossible task.
To be clear, Dwight kind of never WAS reported missing. Tanisha Edwards was arrested last week for appearing to be on drugs whiles she was at her mother's home. Apparently after a year CPS decided to issue a warrant to have her produce Dwight and it was during that long-passed-due action that Tanisha was found to be under the influence of drugs, which was a violation of her probation. Thank God she's still a drug-addict or we may never have found out Dwight is missing.
Tanisha has now told police officers multiple stories about where baby Dwight is. The baby is with
unidentified relatives,
unknown black Muslim women,
taken by two unknown men in black,
and here's the most ludicrous one…Dwight died of an illness at an unknown hospital. Because when your baby dies of illness that's such a trivial thing that you don't even remember exactly where it happened.
Tanisha's in jail right now and investigators are trying to find baby Dwight. Tanisha says she wants to maintain custody of Dwight when she gets out of jail…that, of course, would depend on whether they find him on their own because she's obviously not cooperating.
http://www.thehinkymeter.com/2012/04/02/dwight-stallings-case-another-baby-erased/

mom_in_il

Supreme Commander of the Universe With Cape AND Tights AND Fancy Headgear






grandma needs charges too when they get details.

flash0115

Local Celebrity (no autographs, please)





Job/hobbies

: Pretending to maintain my sanity



The Sacramento County Sheriff's Department is asking for help in locating a missing child who they think may be in Reno.
Dwight Stallings, who turns 2 years old this month, has been missing since April 2011.
Dwight's mother, Tanisha Edwards, is currently in custody at the Sacramento County Main Jail.
A
sheriff's spokesman says Edwards has been unwilling to fully cooperate,
but investigators believe Edwards may have come to Reno in April or May
of last year and given "Baby Dwight" to a woman named 'Antoinette'.
'Antoinette' has been referred to as a middle-aged woman of unknown race with a dark complexion.
Anyone
with information about the identity of 'Antoinette', or the whereabouts
of the missing child, is asked to contact the Sheriff's Homicide Bureau
at (916) 874-5115.
http://www.mynews4.com/news/story/Missing-child-may-be-in-Reno/2SM4x_TDPUiVw6KdT4k2nw.cspx

TomTerrific0420

Supreme Commander of the Universe With Cape AND Tights AND Fancy Headgear





Job/hobbies

: Searching for Truth and Justice



Tanisha Edwards rummaged through a pile of clothing she had
brought with her to a seedy Nevada motel, looking for something clean to
put on her 1-year-old son, Dwight.
Not long after, the Sacramento woman walked down the street to a Motel 6 parking lot with the boy in a
cheap umbrella stroller and his clothes bundled on the handles.
There, she said, she handed him over to two women in burqas
she had never seen before, and walked away.
This is the scenario Edwards described in court a year ago, after
Sacramento County officials first became aware that Baby Dwight was
missing and had Edwards arrested, according to sealed court records
released to The Bee on Monday.
Even the Juvenile Court judge hearing the case found the tale ludicrous,
but no one objected to allowing Edwards to go free.
And so, after a hearing on June 8, 2011, Juvenile Court Judge Jerilyn L.
Borack agreed to release Edwards from custody without having to produce
her child – or even prove that he was still alive, the confidential court documents reveal.
The records only deepen the mystery of
what happened to little Dwight Stallings, who would have turned 2 in
May. The Bee petitioned the Juvenile Court in April to release his
confidential dependency court records, citing overwhelming public interest in the case.
Sacramento County sheriff's investigators
have expressed concern that the child, whose mother is a known drug
addict, may be dead, and that the delay in beginning the search may have
jeopardized their efforts to find him.
The Juvenile Court played a
pivotal role in that timeline when Borack cut the mother loose last
year, despite commenting at the hearing that Edwards' story "really
stretches the imagination."
The court transcript shows that at one point, Borack asked her: "He's with people you don't know?"
Edwards responded: "Exactly, but it can't be no worse than what you read in the paper."
Edwards eventually disappeared again, eluding both the court and county Child
Protective Services until she was arrested in March of this year by Elk
Grove police on suspicion of violating probation and being under the
influence of a narcotic.
It was only then that officials renewed the question: Where's Baby Dwight?
Today, his 35-year-old mother remains in jail, unwilling or unable to help or
to even say whether it was daytime or night when she last saw the child.
Sacramento sheriff's homicide detectives say they have few clues to his
whereabouts. Edwards declined The Bee's request for an interview Monday.
Borack ordered the court records opened at The Bee's request.
The judge said she cannot ethically comment on a pending case.
But she wrote in the order that, after balancing the interests of the
parties, "the needs of the community and the protection of the child
outweigh the policy considerations favoring confidentiality of juvenile
case files."
Mom denies selling baby
The transcript of Edwards' testimony reveals new details of the bizarre
story she told about how her youngest son vanished into the arms of
strangers she claims were relatives of the baby's father.It
also illustrates an apparent lack of urgency by county officials and
lawyers charged with ensuring that children like Dwight are protected from harm.
By the time Edwards testified in June 2011, Dwight had
been missing for several weeks, and lawyers for the boy, Edwards and the
county's Health and Human Services Department gathered in Juvenile Court.
During the hearing, which produced 46 pages of testimony,
Edwards alternately appeared drowsy, uncommunicative and, finally,
combative, going so far as to use profanities to answer a question from
Dwight's attorney about whether she had sold her son.
"No, f--- you," Edwards said to attorney Robin McIver.
After McIver asked the court record to reflect what had been said, Edwards
interjected, "I did, and, b-----, don't ever (say) I sold my kid to
anybody because that's not something I would do."
The county's Child Protective Services agency, which had an open case on the family,
first learned in mid-April 2011 that family members had not seen Dwight
for some time. CPS workers made four attempts on their own or with
sheriff's deputies to locate Edwards that month, but were unsuccessful,
and a warrant for her arrest was issued May 26.
She was arrested June 4 and remained in the Sacramento County jail until June 8, when she
was taken to court to explain where her son was.
Under questioning from Borack, Edwards claimed that she decided to leave
Sacramento in April 2011 and take a bus to Kentucky with her son. This
was despite the fact that she had two older children living with her
mother in Elk Grove.
Edwards said she got as far as Nevada,
although she could not remember the name of the town. It was there, she
claimed, that she discovered that Dwight's father, Hasaun Stallings, had
been arrested back in Sacramento. Court records show he was charged
March 30, 2011, with false imprisonment, battery against a spouse and vandalism.
Edwards told the court that at that point she felt she
needed to return to Sacramento to clear out the couple's apartment on
Florin Road, and "it would have been too hard for me ... with a 1-year-old."
No closer to an answer
Edwards claimed that was when the mysterious relatives of Hasaun Stallings
"kind of found me" in Nevada."My cell phone was ringing," she told the judge.
"They heard I was in trouble, they said, and that they could help me."
"And who was on the other end of the phone?" Borack asked.
"I couldn't tell you, I didn't ask," Edwards said.
By then, the judge clearly was becoming frustrated with Edwards and
stopped to ask if she understood the meaning of perjury.
"I find it difficult to believe that someone would get a telephone call
from somebody who is unidentified, who you don't know, who you would
meet and leave your 12-month-old baby in their care, someone who is a
stranger to you, whose name you don't know, whose identity you don't
know, and this is your baby that you have had with you for a year, and
you would just turn the baby over to these people without knowing
anything about them," Borack said. "That is difficult for me to believe.
Do you understand that?"
"I understand that," Edwards replied.
Nevertheless, Edwards said the women who called had given her a place to meet where
they could pick up the baby. She said she left the "really cheezy (sic)
motel" and headed to a Motel 6 parking lot. "They were already there waiting," Edwards testified.
Two women in "Muslim attire" and "completely covered" approached her.
"They said, 'This is Dwight?' I said, 'Yes,' and then I gave Dwight his hug and kiss, and then I left," Edwards testified.
The hearing came to a close without any testimony to indicate where Dwight
might be, and Edwards' attorney, Jim Stillens, asked that she be released from jail.
"Objections?" the judge asked the lawyers present.
"I don't believe I have a basis to object, your honor," said Stacey
Miller, the deputy county counsel representing the agency that oversees
CPS. Dwight's attorney, McIver, also did not object, but said that
the testimony had made her "feel like my client is even more at risk."
That left matters up to the judge.
"The court also hopes that the child is safe," Borack said. "He is,
obviously, of an age where he cannot fend for himself and is totally and
completely dependent upon others."
The case remains open, and the search for Baby Dwight continues.
http://www.modbee.com/2012/06/12/2237778_p2/mother-in-baby-dwight-case-tells.html

TomTerrific0420

Supreme Commander of the Universe With Cape AND Tights AND Fancy Headgear





Job/hobbies

: Searching for Truth and Justice



New allegations against mother of missing "Baby Dwight"
Last Modified: Saturday, Jun. 16, 2012 - 8:15 am
The mother of Dwight Stallings, the little boy who has been
missing since April 2011, has been hit with a raft of new allegations in
Sacramento Superior Court.
None of the 11 counts filed against Tanisha Edwards this week is related
directly to the boy's disappearance, but the charges that she repeatedly
violated her probation may result in her probation being revoked and
ensure that she stays in jail while sheriff's detectives exhaust their
efforts to find the boy.
Detectives have pursued clues as far away
as Wichita, Kan., in hopes of figuring out what happened to "Baby
Dwight," but have they found anything yet to indicate the boy is still alive?
"Quite honestly, no," said Deputy Jason Ramos, a sheriff's spokesman. "There's just nothing to indicate that.
"This baby being dead is as plausible as any other hypothetical right now.
Obviously, the mom's the key and quite possibly the only key, and
without her being forthcoming we are not optimistic about finding this
baby alive somewhere."
Sacramento County District Attorney Jan Scully noted that the investigation is ongoing.
"My prosecutors are working with the Sheriff's Department and the most
important thing to note is, she's not going anywhere, which gives
(detectives) time to continue on," Scully told The Bee. "They're working
this case hard and we are available to them as they need us.
"As soon as we have some specific action that we'll be taking, we'll let you know."
Edwards, who is being held in the Sacramento County jail and is being separated
from other inmates, made a brief court appearance earlier this week. She
is due back in court July 18 on a request by the district attorney that
her probation be revoked.
Prosecutors allege that she did not notify
probation officers
when she moved, that she committed other violations related to
drug use
and failed to appear in court as ordered.
In 2008, Edwards was sentenced to four years of probation after being
found with ammunition she was not authorized to possess, court records indicate.
She already was the mother of two children when she gave birth to Dwight Stallings on May 19, 2010.
Edwards, who had a history of
drug abuse,
somehow lost track of her youngest child last year. Sacramento County
Child Protective Services failed to locate him, records show.
The boy was last seen alive in April 2011. But the case received no public
scrutiny until March, when the first missing person's report was filed
and sheriff's officials began searching for him.
Edwards has told investigators varying stories about what happened to Dwight, including a
bizarre tale she spun June 8, 2011, in Juvenile Court when she claimed
she handed the boy over to two burqa-clad women in a Motel 6 parking lot
somewhere in Nevada.
Edwards testified that she had never seen
the women and did not know who they were, but that she believed they
were relatives of the baby's father.
The precise nature of that
hearing did not become public until earlier this week, when the Juvenile
Court agreed to release a copy of transcripts to The Bee.
The transcripts show Edwards claimed she took a bus to Nevada using an
assumed name and was uncertain of where she was when she allegedly gave
the boy away. Records indicate she was handcuffed as she testified.
The mother was alternately drowsy and combative during the hearing, the
transcript shows, and was not inclined to help Judge Jerilyn L. Borack
determine where Dwight might be.
"Why do you think you're here?" Borack asked her at one point.
"Because y'all want to do a protective custody," Edwards replied.
"What do you think that means?" the judge asked.
"That y'all want to take custody of my child," Edwards answered.
"But you don't have custody of your child now, do you?" the judge said.
"Y'all don't have him either," Edwards said.
The documents indicate that she supported herself and the baby through
public assistance, including the federal WIC program, which provides
nutrition for women, infants and children. She was on
food stamps
and also
received $845 a month in disability payments she was getting as a result of having multiple sclerosis.
Even after she went to Nevada, she was able to receive that money monthly
because it was automatically placed on a credit card account.
Borack agreed to release her from custody after an attorney for the county
counsel, who represents CPS, did not object to her release.
Edwards later failed to return to court as ordered and was arrested again March 22.
http://www.sacbee.com/2012/06/16/4566151/new-allegations-against-mother.html

kiwimom

Supreme Commander of the Universe With Cape AND Tights AND Fancy Headgear






Sacramento County wants to force mom to give details on 'Baby Dwight'
By Marjie Lundstrom and Sam Stanton
mlundstrom@sacbee.com
Published: Wednesday, Jul. 25, 2012 - 12:00 am
Last Modified: Thursday, Jul. 26, 2012 - 9:07 am
Sacramento County officials are seeking an order to force the mother of Dwight Stallings, the missing 2-year-old who has not been seen in more than a year, to be removed from her jail cell and brought to dependency court to tell what she knows.
In a hearing Tuesday that was opened to The Bee after the newspaper requested access, Deputy County Counsel Michelle Ben-Hur said Tanisha Edwards has refused to attend court sessions that have been scheduled in an effort to locate "Baby Dwight."
As a result, Ben-Hur asked Juvenile Court Judge Jerilyn L. Borack to approve an "extraction order" that would allow sheriff's deputies to forcibly bring the woman to the William R. Ridgeway Family Relations Courthouse on Power Inn Road to face questions about her son's whereabouts.
Edwards, who is being held in the Main Jail downtown, has shown up for proceedings in Sacramento Superior Court, where she faces charges of violating her probation. None of the criminal charges is related to Dwight's disappearance.
Borack deferred deciding on the extraction order Tuesday, instructing the county to submit a written motion.
Such orders are extremely rare in Sacramento County, Sheriff's Deputy Jason Ramos said. "Most inmates just go to court," he said.
But in cases in which extraction orders are authorized, Ramos said it is noted on inmates' records and they are informed they must report to court. If they continue to refuse, deputies "start at the lowest level of force" and physically remove them from their cell and transport them to court.
Also on Tuesday, Borack agreed to release to The Bee court files and transcripts involving the case.
The bizarre saga has perplexed family members and law enforcement officials, who say they have no idea what happened to Dwight after he was last seen alive in April 2011, when he was 11 months old.
Edwards, officials say, has provided little assistance.
"The mother has refused to be transported to these hearings," Ben-Hur told the judge, who has been overseeing the case.
The hearings in dependency court have been closed to the media and public because they involve a juvenile and Child Protective Services.
The judge agreed to open the hearings and records to The Bee after the newspaper filed declarations of support from former Sheriff John McGinness and Robert Fellmeth, a former prosecutor and executive director of the Children's Advocacy Institute at the University of San Diego School of Law.
Both McGinness and Fellmeth argued that such access and the ensuing publicity could generate leads to the child.
The county initially had opposed allowing The Bee access, saying that both the district attorney and the Sheriff's Department believed publicity would undermine the criminal investigation. Ben-Hur also argued that The Bee's coverage has portrayed the judge, some attorneys and the county in "a less than favorable light."
"This historical coverage is likely to cause attorneys to engage in unnecessary and possibly unhelpful, but not unauthorized or frivolous, legal tactics," the county argued. "Such a reaction, whether conscious or unconscious, could cause hearings to be excessively adversarial… ."
The county dropped its objections after the Sheriff's Department took no position on the matter, and District Attorney Jan Scully's office did not oppose it, court documents indicate.
In its legal filings, The Bee suggested – and the court agreed – that reporters would be excluded from proceedings if new circumstances indicated there was a "reasonable likelihood" the child might be harmed.
Borack had agreed earlier to release some records in the case to the newspaper, citing "the needs of the community and the protection of the child."
Edwards was arrested June 4, 2011, after CPS and sheriff's deputies made four efforts to locate her for questioning about her son's whereabouts.
The documents Borack released last month show that the judge held a closed hearing on June 8, 2011, questioning Edwards closely about what happened to the child.
Transcripts show that the 36-year-old drug addict insisted she had not sold the child. Instead, she claimed that she gave Dwight away in a Motel 6 parking lot in Nevada to two women dressed in burqas whom she had never met before.
She claimed she had received a cellphone call from the women saying they were relatives of the boy's father and wanted to help her.
She added that she didn't know who they were and handed the boy over without questioning them, an assertion that left the judge incredulous.
Despite Edwards' inability to lead authorities to Dwight, she was released from custody.
Because of the confidentiality restrictions that surround juvenile cases, the fact that a child was missing was not made public for months.
The case finally broke into the public eye last March, when sheriff's officials announced they had just learned the child was missing. The first missing person's report in the case was then filed.
Edwards has been in jail since then on probation violations, but her inability or refusal to reveal what happened to the boy has stymied investigators' efforts to locate him.
Read more here:
http://www.sacbee.com/2012/07/25/4657365/sacramento-county-wants-to-force.html#storylink=cpy

mom_in_il

Supreme Commander of the Universe With Cape AND Tights AND Fancy Headgear






Parents shun court again in 'Baby Dwight' search
By Sam Stanton and Marjie Lundstrom
Published: Wednesday, Aug. 1, 2012 - 12:00 am | Page 1A
Last Modified: Wednesday, Aug. 1, 2012 - 7:43 am
His mother couldn't be bothered to show up in court, opting to remain in her jail cell rather than talk about her missing son.
His father opted to sleep in instead of accepting a ride to court.
The difficulties in the long search for little Dwight Stallings were laid bare Tuesday in a Sacramento courtroom, as testimony and confidential documents revealed the lengths to which officials have gone to locate the boy – despite his parents' unwillingness or inability to help.
The child, who would be 2 now, was last seen in April 2011.
With his parents out of the picture, at least for now, responsibility for finding "Baby Dwight" has fallen to Sacramento County sheriff's detectives and Child Protective Services workers.
The dead ends and detours are many, according to reports from both agencies.
"We don't have any credible evidence one way or another to say, 'Yes, this child is alive,' or 'Yes, this child is dead,'" said homicide Detective Brian Meux.
Investigators used cadaver dogs earlier this summer to search the areas around an apartment complex off Florin Road where Tanisha Edwards, the child's mother, last lived with the baby, according to Meux.
But they also have been chasing down alleged sightings as recently as six weeks ago.
Documents obtained by The Bee show that investigators were handed a tantalizing clue this summer that the child might still be alive.
In mid-June, detectives and CPS workers received a tip from a young woman who said she saw Baby Dwight at City Liquor and Food Store in south Sacramento.
The alleged sighting led investigators to a cinder-block gas station and market along Franklin Boulevard at Brookfield Drive.
"My granddaughter says positively, she knew that was the baby for sure," said Odessa King, the grandmother of Brittany Alexander, the 19-year-old witness who said she saw the child in the company of an older woman at the station on June 9 at 1 p.m.
In an interview with The Bee on Tuesday, King said her granddaughter initially had forgotten to tell anyone about the strange encounter she had at the market. But about a week later, she realized she had heard about a missing baby earlier and went online to read news accounts about the Baby Dwight case.
When she saw the baby's photo, she was certain she had seen him, King said.
Alexander's account of her sighting, contained in Juvenile Court documents released to The Bee, indicate that she saw a woman in her 50s pushing the baby outside the store in an umbrella stroller and remarked to her that he was "cute."
Out of the blue, the woman turned to her and said, "I took this baby from his momma who was on meth because I could not see him going out that way," the court documents state.
Two cousins with Alexander also heard the comment, court documents indicate.
"When asked for a description of the child, Ms. Alexander indicated the child was sitting in a dirty blue cheap umbrella stroller, looked to be (age) 1 going on 2, he was wearing a diaper, short sleeve shirt maybe orange in color, and the child had a full head of hair," the documents state.
The woman, described as being about 50, with a light complexion, standing 5-foot-6 or 5-foot-7 and weighing about 140 pounds, was wearing jeans, a shirt and a scarf over her hair.
Alexander told investigators she last saw her pushing the stroller down Brookfield Drive.
King, who is a friend of Baby Dwight's maternal grandmother, Barbara Edwards, said she went to the Edwards' home around 11 p.m. or midnight after learning of the possible sighting.
"She was so happy," King said. "She said she had prayed that night. She said, 'I just couldn't sleep, I was just sitting here praying.' She really leaped for joy when she heard the news."
Meux said video surveillance reviewed by detectives from that day did not reveal a credible match. He said that detectives believe Alexander's account is "sincere but mistaken."
Barbara Edwards, 64, said she is "still hoping it could be him."
"I don't want to think that something's happened to him," she said.
Meux said authorities are planning to check out a report of a similar sighting at an apartment complex. "We're doing everything we can."
The tips come as authorities continue their efforts to find the little boy, but they are seeing their search stymied by parents who are unwilling or unable to help.
On Tuesday in Sacramento Juvenile Court, Judge Jerilyn L. Borack convened another in a regular series of hearings to study what progress has been made in locating Baby Dwight. The news remained grim, as both parents once again refused to show up for the session.
Dwight's mother, 36-year-old Tanisha Edwards, refused Tuesday morning to leave her cell at the Sacramento County jail, where she is being held for repeated probation violations. She has refused to attend previous hearings or provide new information to detectives.
The baby's father, Hasuan Stallings, declined to appear even after social workers went to his apartment early Tuesday and offered to drive him to the William R. Ridgeway Family Relations Courthouse on Power Inn Road, according to Deputy County Counsel Michelle Ben-Hur.
Stallings was sleeping when they arrived and, after being awakened, said he would not go to court, Ben-Hur said.
The result was a brief hearing and an agreement for lawyers in the case to return to court Sept. 11 with any updates they may develop in the search for Baby Dwight. "Obviously, if we do locate Dwight and he is alive, we would bring him onto the calendar much sooner," Ben-Hur said.
Such hearings typically are closed to the public and media, but Borack, citing intense public interest in the matter, approved a request from The Bee to be present in court. The judge also released documents in the case to The Bee that describe recent efforts to locate the baby.
Tanisha Edwards has told investigators varying stories about what happened to her son, ranging from a claim that she did not know to one where she described handing the boy over in an umbrella stroller to two burqa-clad women she did not know in a Motel 6 parking lot in Nevada.
Edwards' mother has told investigators that when she spoke to her daughter in early July she "confirmed she has no idea what happened to Dwight, since she was so high on drugs," court records state.
Read more here:
http://www.sacbee.com/2012/08/01/4680029/parents-shun-court-again-in-baby.html#storylink=cpy

mom_in_il

Supreme Commander of the Universe With Cape AND Tights AND Fancy Headgear






---
Permissions in this forum:
You
cannot
reply to topics in this forum