Jennifer Ward was found guilty of
involuntary manslaughter yesterday for brutally shaking and slamming
her 9-month-old daughter to death nearly two years ago.

The verdict means Ward, 39, could face up to 20 years
in prison when she is sentenced on Monday in Salem Superior Court for
the November 2007 death of her baby, Jocelyn Mae Ward-Anderson. Had she
been charged with first-degree murder, she would have had a life
sentence.

Ward whispered "thank you," grabbed her lawyer's hand
and then looked back at her parents but showed no emotion when the jury
foreman read the verdict just after 3 p.m.

The baby's paternal grandmother, Mary Johnson of Lynn,
who cared for the child for several months while Ward was taking part
in drug treatment and parenting classes, expressed relief that Ward was
found responsible for the child's death.

"It's something," she said, adding that she'll have more to say in a victim-impact statement Monday.

Ward's mother, Cheryl, who cared for Jocelyn most
weekends after she was returned to Ward's custody, burst into tears in
the courtroom upon hearing the verdict.

Prosecutor Kate MacDougall had hoped to convince
jurors that Ward was guilty of first-degree murder either by
premeditation or extreme atrocity or cruelty. She described a prolonged
series of assaults on the baby, including grabbing and twisting her arm
hard enough to snap it, then shaking the baby violently, causing two
more fractures near her shoulders and extensive brain damage, and then
finally slamming the child against something hard enough to crack her
skull.

MacDougall argued that the attack, on Nov. 18, 2007,
was motivated by Ward's anger at the teething baby after she had been
fussing for 21/2 hours.

Ward's defense lawyer, Thomas Barrett, insisted that
Ward hadn't harmed the child at all, suggesting instead that it was a
longtime family friend who planned to stay with Ward that night, or
that perhaps medical personnel or a rare bone disease caused her
injuries.

Jurors interviewed outside the courthouse after the verdict said they quickly rejected Ward's defense.

But getting to a final verdict from among the options
they were given — first-degree murder, second-degree murder and
manslaughter — proved a bit harder.

The jury, which was initially split on the question of
murder versus manslaughter, deliberated for about eight hours over two
days.

Yesterday morning, the jury asked for a written copy of the instructions for each of those options.


In the end, it came down to "two words, malice and intent," juror Roberta Rimari of Beverly said.

"None of us believe she intended to kill her baby," said Rimari, who described the case as "very difficult."

"I think we came to a fair conclusion," she said.

Ryan Suzar of Salisbury said he initially believed
Ward was guilty of first-degree murder. "There were several of us" who
felt that way, he said.

But as he listened to fellow jurors, he came to share
the view that the prosecutor hadn't proven Ward intended to kill the
baby.

"Nobody was there with her. Nobody knows how she was
feeling," Suzar said. "Toward the end (of deliberations), I think I
kind of wasn't as sure as I was in the beginning."

What about the phone call hours before the assault, in which Ward berated the child loudly?

Suzar said he and other jurors felt it was too remote in time to connect to the assault on the baby later that night.

Jamie Foote of Ipswich, another juror, said he also
eventually came to the conclusion that there just was not enough proof
that she intended to kill her baby.

Rimari called yesterday "one of the hardest days I've ever spent with a group of people."

Juror Bob Hughes of Andover called the trial "the most
difficult two weeks I've ever been through. The whole thing was very
difficult."

TomTerrific0420

Supreme Commander of the Universe With Cape AND Tights AND Fancy Headgear





Job/hobbies

: Searching for Truth and Justice



November 3, 2009
Mother gets 15 to 17 years in baby case
By Julie Manganis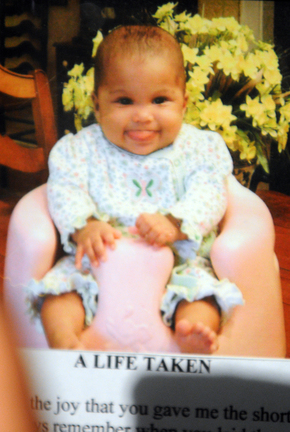 PEABODY — Jennifer Ward sat through days of grim and disturbing testimony about her daughter Jocelyn's painful death, and then a jury's verdict finding that she had killed her baby, all without betraying a single emotion.
Yesterday, for the first time, Ward, 39, of Peabody, cried openly in court. But it wasn't during Salem Superior Court Judge David Lowy's announcement of her sentence, 15 to 17 years in state prison for involuntary manslaughter, even as he called Ward's actions two years ago "evil."
It's a sentence that the judge said "reflects the horror of what she did and her complete lack of remorse or acceptance of responsibility for what she did.
"What the sentence does not reflect is the evil of the crime," he said. "No sentence could."
Ward's tears came earlier in the morning, as her ex-boyfriend, Robert Anderson, begged Lowy for justice for his youngest child, Jocelyn Mae Ward-Anderson, just 9 months old.
Anderson, 47, took a deep breath. "The last time I called home and I talked to my baby's mother, she told me my baby was in the hospital," Anderson told the judge. "I knew there was something terribly wrong with my baby."
"This is hard for me because I loved that little girl," Anderson continued, struggling to hold back tears. "I didn't get a chance to be her father. Can you give us justice for my little baby?"
As both Anderson and his family wept, Anderson continued. "Please do justice for Jocelyn. She didn't deserve this. I just don't know what to say. Why did it happen? Why?"
As Diana Anderson, Jocelyn's aunt, carried a framed picture of the baby to the witness stand and read a victim impact statement by the baby's grandmother, Ward's tears stopped.
"You will never know the joy that you gave me the short time you shared in my life," Mary Johnson, the baby's grandmother, wrote. "If only you could have spoken and shared the pain you endured, maybe I could have protected you."
'Utter lack of remorse'
Prosecutor Kate MacDougall, who had hoped to convince jurors that Ward was guilty of first-degree murder, said yesterday that Ward showed "an utter lack of remorse" for what she had done to a helpless baby.
"This was not some 18-year-old with no support," MacDougall told the judge. "She was, by her own statements, valedictorian of her class at Bishop Fenwick and a college graduate."
And she had two families — Anderson's and her own — who would have taken the baby "in a heartbeat," said the prosecutor, if only Ward had asked.
Even Lahey Clinic, the hospital where she reluctantly brought Jocelyn on the night of Nov. 18, 2007, would have taken the child under the state's safe haven law, MacDougall said.
But Ward availed herself of none of the advantages she had been given in life, the prosecutor said.
Jocelyn "was a remarkable child who would have been a remarkable woman," said MacDougall, describing how Jocelyn not only overcame the circumstances of her birth — born prematurely with cocaine in her bloodstream — but thrived.
Lowy shared that view.
"She was by all accounts a precious baby filled with limitless potential," the judge said. "The defendant failed her. She was selfish and weak. She failed Jocelyn, she failed the child's father, she failed her own family and she failed the whole community."
No matter what else is going on in a person's life, "our children's needs come first," Lowy said. "Parenting is our core responsibility. Every day in my job I see the repercussions of parents not meeting this responsibility."
Ward's lawyer, Thomas Barret, urged the judge not to send Ward to jail, but instead to sentence her to probation, perhaps with an electronic monitoring bracelet.
"This whole case, as I said in my closing, is a tragedy," Barrett told the judge.
Barrett acknowledged that Ward was "in recovery" from drug addiction at the time Jocelyn died.
"No further good can come of incarceration at this point," he said. "My client is now without her only child."
But Lowy disagreed, imposing a sentence that means Ward will spend at least 15 years in prison. She will receive credit for the nearly two years she has already spent in custody at Framingham State Prison, awaiting trial.
'Didn't even apologize'
While Anderson's family had hoped for more time in prison, "we're comfortable with how the judge sentenced her," Anderson said.
Mary Johnson of Lynn, Jocelyn's grandmother, cared for the baby for about 31βΡ2 months while Ward was taking part in drug treatment and parenting classes.
"She didn't even apologize," Johnson said.
Instead, Robert Anderson said, after the verdict last Thursday afternoon, "She said 'I told you I didn't do it.'"
Johnson said she still cannot believe that the smiling baby nicknamed "Buddha" is gone.
"She was my granddaughter, but she was also my little baby," Johnson said. "Every night, I have a picture of her, I think she's up in Maine (with Ward's parents). It just doesn't seem real."
Robert Anderson, who has faced his own struggle with drug abuse and was in prison over a failed drug test when Jocelyn died, said yesterday that his daughter lives on inside of him. "Everything I do today is because of her. I'm in a better place today."
Since Jocelyn's death, Anderson has become a grandfather, and that child now has Jocelyn as a middle name, as does one of Johnson's other grandchildren.
Barrett declined to comment yesterday on the sentence and whether he will file an appeal of the verdict.
Ward's parents left the courthouse through a side door to avoid reporters.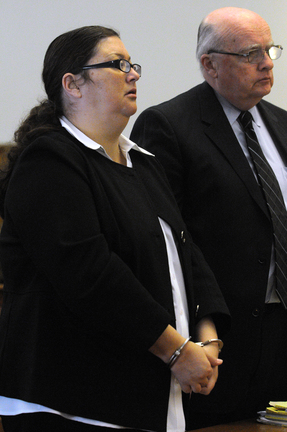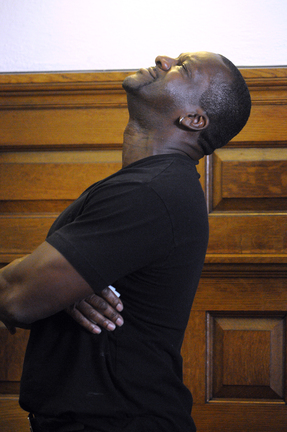 http://www.salemnews.com/local/x546347461/Mother-gets-15-to-17-years-in-baby-case

mermaid55

Supreme Commander of the Universe With Cape AND Tights AND Fancy Headgear






Laws need to be changed...this woman should have gotten life for viciously hurting and murdering her baby. 15 years isn't enough for what she did. Laws are too lenient in most states.

babyjustice

Supreme Commander of the Universe






---
Permissions in this forum:
You
cannot
reply to topics in this forum